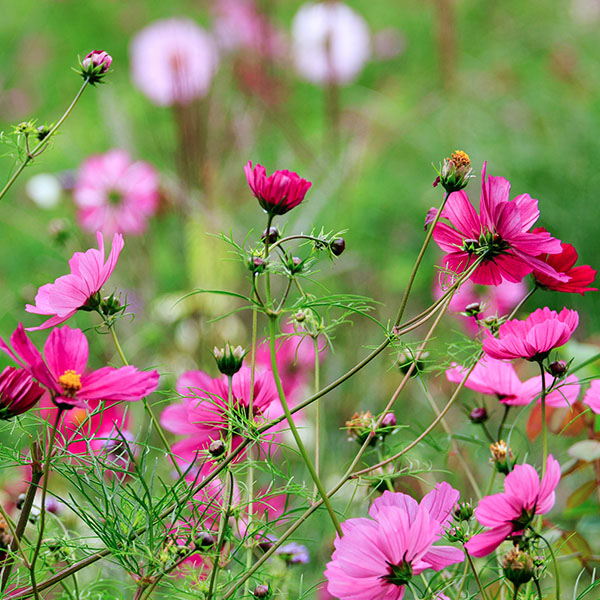 Rites of Spring
There is so much more to springtime garden planting than bulbs.
Below we offer some advice on some alternatives to bulbs to help with your garden design. Suffolk in Spring is quite beautiful and whether your garden has been professionally landscaped or not, below are a few tips to help your garden be a little bit different.
Most bulbs look their best when planted in vast, Wordsworthian drifts. There is nothing more charming and nostalgic than ancient Beech woodland dressed in bluebells. In gardens, however, bluebells don't earn their horticultural keep. Greedy and invasive, the ephemeral charm of their nodding flowers is meagre compensation for unruly, smothering clumps of waxy foliage. It took me years of digging deep to finally eradicate this thug from my own small, country courtyard.
Most of us live in homes with gardens on the smaller side, outdoor spaces in which we require plants to work hard. The plants we choose need to provide seasonal interest for as long as possible. One of the best ways to introduce Spring interest into a garden, but to ensure longevity of interest, is to plant small, spring-flowering trees and shrubs.
The structure of small trees and shrubs is of paramount significance. All too often, they are left to grow into ungainly, amorphous lumps. In cases when foliage is no great shakes, structure is especially important. Take for instance Cornus mas, the poetically-named Cornelian Cherry, whose large and drooping, dull green leaves cannot be described as enticing. However, if carefully crown-lifted into multi-stem form, they introduce a kind of gnarled, paradoxical formality to garden layouts. Their greatest attribute, however, appears in early Spring, when its bare stems are fairy-dusted with masses of refined yellow flowers that certainly give the blowsy daffs a run for their garage forecourt money.
For richer soils and later in the season, the timelessly elegant deciduous Magnolia is a good choice. One of my favourite varieties is Magnolia x loebneri 'Leonard Messel', named after the eponymous plantsman and grandfather to the Earl of Snowden. Small, and well-behaved, in mid-Spring its stems are festooned with delicate, star-shaped lilac-pink flowers that are redolent of hats worn by the Earl's wife in the mid-late 1950s. Like so many of the smaller Magnolias, this variety can be crown-lifted in time to create space for underplanting. Magnolia kobus is a hardier, and larger variety with fleshier, paper-white blooms.
Moving into April, ornamental crab apples and cherries take centre stage. I prefer the former. Less blowsy, more refined and somehow more sympathetic to the Suffolk countryside. For small gardens, I have been enamoured of Malus toringo 'Brouwer's Beauty' for quite some time. Not only is it the perfect size, either as single, or multi-stemmed specimen, its almost unique semi-weeping habit lends itself to creating a naturalistic feel in urban spaces. Its lush green foliage, fragrant white flowers and small yellow fruit provide year-round interest. Standard trees can be planted in rows along fence lines for additional, but softer screening. In larger gardens, they can be planted in mini-avenues. Multi-stemmed plants, positioned randomly towards the bottom of a garden create more romantic, rural atmospheres when underplanted with simple meadow mixes.
Lifting the canopies of -or crown lifting- small trees and shrubs, is popular with horticulturists and designers. Justifiably so. It creates the feeling of space in smaller spaces and opportunities for additional, woodland-inspired, spring planting. Shade-tolerant ornamental grasses, such as Hakonechloa macra and Briza media can be planted in low-maintenance carpets through which to weave a whole variety of herbaceous perennials. A timeless favourite, Myosotis sylvatica -better known as Forget-me-not takes care of itself, and forms azure haze between the grasses and taller perennials. Aquilegias are popular, and are available in pastel and sultry shades. Again, they self-seed. You cannot beat Aquilegia vulgaris 'Nivea'. More sophisticated palates would enjoy one of the many new varieties, such as the lime-green Aquilegia vulgaris 'Lime Sorbet' or the rarified Aquilegia viridiflora 'Chocolate Soldier', which I once used in a garden at the Chelsea Flower Show. Its chocolate brown flowers are a curiosity.
There are so many other horticultural ways to celebrate the ubiquitous theme of nature reawakening, and hopefully, a few suggestions have been made that challenge the ascendancy of bulbs in the collective imagination. To echo the sardonic words of Miranda Priestly in The Devil Wears Prada 'Bulbs For Spring Hardly groundbreaking!'
A final word of advice if you still feel the urge to get your dibbers out, confine them to outsize pots, in which bulbs can be layered, contained and supplemented throughout the year with bedding.